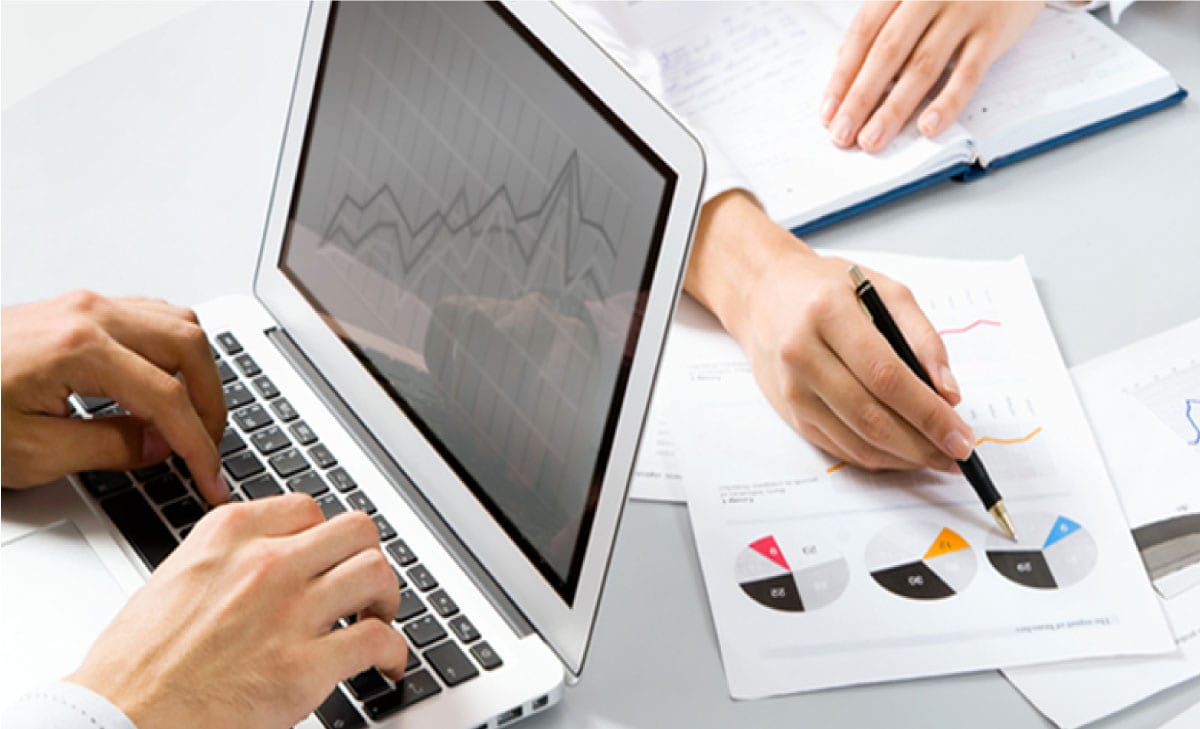 7 Effective Steps to successfully launch your Consulting Project
The importance of information in planning and managing your Consulting projects cannot be overstated. Information is essential for the success of any endeavor. And naturally, whoever has the upper hand in the game, has the best chance of winning. However, at the center of successful Consulting lies mutual respect and mutually beneficial business. It has always been our credo at Consulting Quest that it is the most productive approach to all types of projects.
With that said, let's discuss this topic in more detail.
As a general rule, the most successful man in life is the man who has the best information. – Benjamin Disraeli
There are some important points for consideration here.
Before you launch your next Consulting project, you need to review some critical aspects, such as:
1. The downside of asymmetrical information –
And why should you care as a client?
Asymmetrical information, otherwise known as information failure, refers to a situation when one party in a transaction has more information, than the other party. Almost all economic transactions involve some information asymmetries.
Leverage Disruption to create more value through Consulting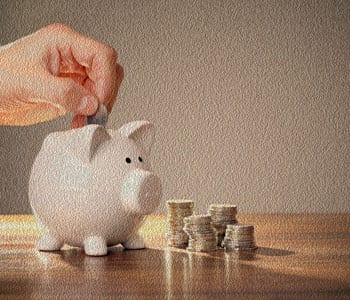 Management consulting companies have mastered the art of selling "digital transformation" projects to clients, but still struggle to adopt digital tools in their business model.
2. How does asymmetrical information distort the Client-Consultant relationship? –
Asymmetrical information is particularly present when it is difficult for the client to judge the quality of the product or service. In Consulting, partners and consultants know their industry and their trade inside out, while the clients and their buyers have limited information.
3. Quality of Consulting services – Market Insights –
You might be familiar with the work of George Akerlof "The Market for Lemons", where he explained that in certain markets, it's difficult to distinguish the good product ("pears") from the bad product ("lemons"). To mitigate the risk, the Buyer will use the average statistics of the market while the Seller has detailed information for each product. The Seller will tend to sell the product of lower quality to minimize their losses, and the best product won't be sold. As a result, the market will shrink, and the average product quality will decrease. The case for Consulting is very relevant, as well. And as a Client, you need to be aware of these insights.
4. How to overcome the disadvantages when buying Consulting services? –
Unless they are handling several consulting projects a month in each capability, buyers of consulting services are at a disadvantage when negotiating with consulting providers.
As a result, they might become risk-averse in their choice of consulting providers and choose consulting firms based on mostly their reputation or their existing relationship. The winners then are the large consulting firms that provide constant high-quality work and are excellent at building relationships.
How to get started? – 
The 7 Most Effective Steps in Launching Your Next Consulting Project-
If you are confident that you like to start a Consulting project, these are the most effective steps to follow:
1. Define your needs.
The definition of the scope of your project is a compulsory step in the RFP (Request for Proposal) process. You need to gather a team made of the major stakeholders and agree on the expected results, timeline, and budget for the project. Even though you are thinking of bringing in external resources to lead the project, the sound principles of project management still apply. Determine the real problem to solve and the project objectives. Many consulting projects fail because the scope is too vague and too broad.
2. Organize a competition among the prospective providers.
Organizing a healthy competition is not that complex. You have to keep in mind that the goal of the process goes beyond the sourcing and focus on the success of the project. Organizing a competition without putting all the candidates in the right conditions to give their best answer is meaningless. You need to bring in relevant potential consulting suppliers and give them a fair chance to get the project.
3. As a client, you are the boss.
Don't let the Consulting firm dictate the pace or the content of the conversation. Explain your process beforehand. They need to give you one contact person, and to comply with your rules.
The same applies to Terms & Conditions. Work with your documents based on your internal policies. Define, for instance, your rule for Travel expenses: Expenses capped at 15%, pre-approved by your teams, and based on your Company policy. Be fair to all consulting firms and apply the same to rules to everyone.
4. Be the "Early Bird" or start the process early.
Most of the time, you are not in such a hurry. When projects are complex, integrate Q&A sessions in the process. In all cases, give the consulting firms enough time to prepare their proposal. They will only be more detailed.
Generally, response turnaround times should be in the range of one week for a small project, two weeks for a standard consulting project and three to four weeks for a very large project (PMI, company-wide transformation, …).
Anticipate also spending some extra time for back-and-forth communication with the consulting providers to adjust the proposals
5. Sharing the roles.
As a general rule, business lines should focus on the Business Expertise, and Procurement should bring their Consulting and Procurement perspective to the table.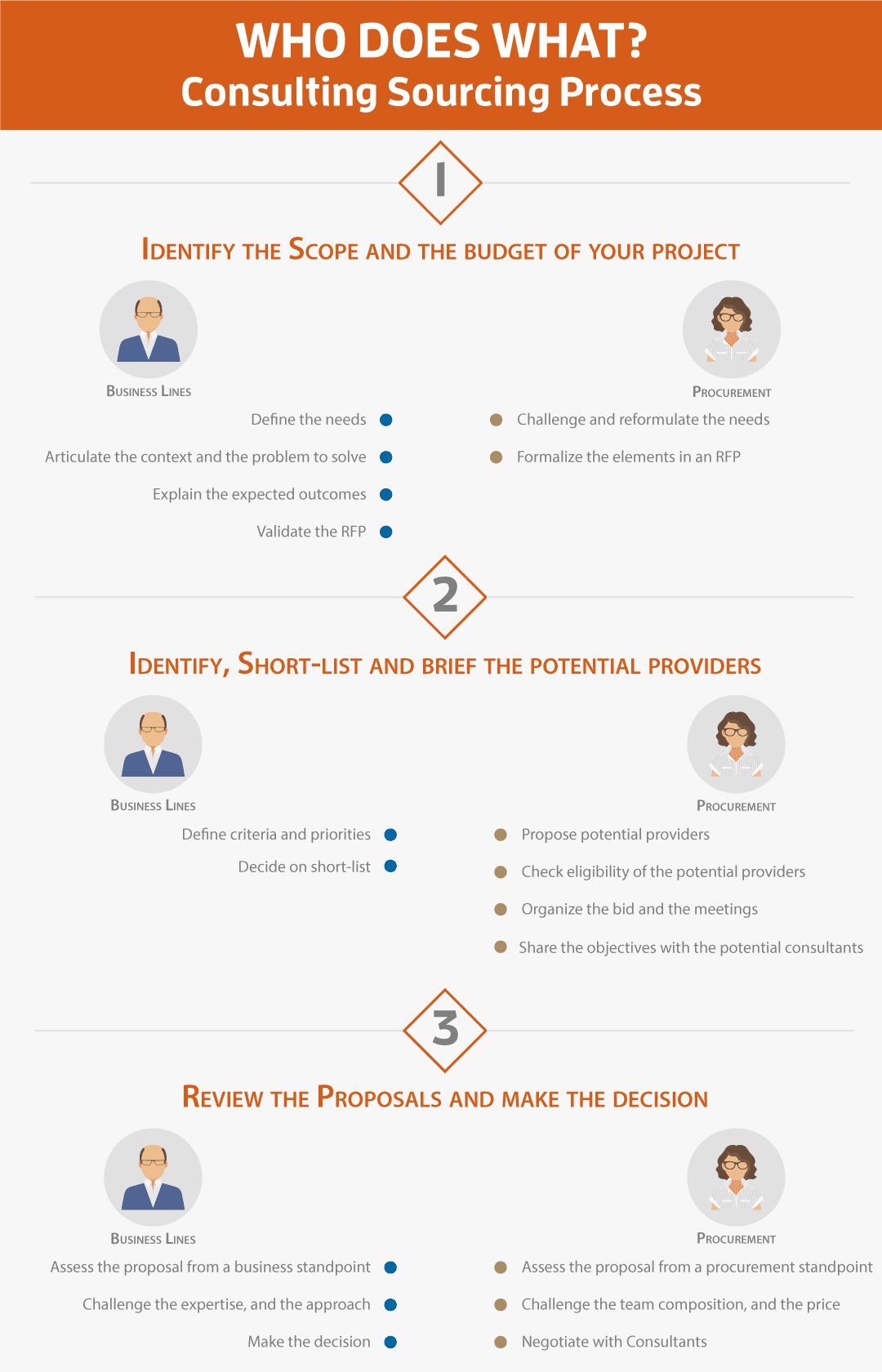 6. Create excitement.
If you decide to work with Consultants, you are interested in their analytical skills, their expertise or their outstanding communication competencies. Don't waste their talent (and your money) on menial tasks. They are better employed at complex projects where they can do their magic. Besides, they might not be interested in working on small projects, and your project could go down on their priority list. And it might not be 'good news' in regards to quality and expertise.
If you are looking more for another pair of arms, or data crunching, you might prefer freelance platforms such as Catalent, TalMix, even networks like 2PS or Eden McCallum. You will find bright individuals ready to take on very small projects or interim work.
7. Time management and timing.
If you can afford it, take your time. It is sometimes difficult to translate the business challenges and the needs into a project. You might not be sure even if the project will happen, or have a clear scope in mind. The RFI (Request for Information) can be a good way to collect and leverage information. It will help you refine your approach to solving the problem and develop consensus within your organization. It can also be a smart way to narrow the number of contestants on your list before engaging in the RFP process.
Be careful to give a fair chance to all the consulting firms you engaged in your RFI, so your company is not seen just as a brain picker.
When the scope is clear, you can take an educated guess at how many consultants you need for the project. You can also think about the value expected from the project. That should help you define ballpark how much you are ready to pay for that project.
Ready to get started on your next project? Need a fresh point of view? We will be happy to help. Please give us a call today, at no obligation. Let's get the conversation started.
Hélène Laffitte is the CEO of Consulting Quest, a Global Performance-Driven Consulting Platform and author of "Smart Consulting Sourcing", a step by step guide to getting the best ROI from your consulting. With a blend of experience in Procurement and Consulting, Hélène is passionate about helping Companies create more value through Consulting.