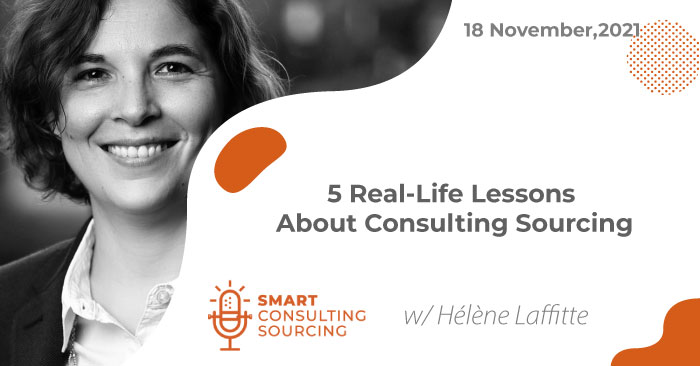 Sourcing doesn't start when you select the consultants you want to work with. It starts with a problem you want to solve. You could say sourcing starts even before you identify the projects that are sourcing candidates.
On this week's Smart consulting Sourcing podcast, I provide 5 Real-Life Lessons About Consulting Sourcing.
Key Takeaway: There you have five lessons about consulting sourcing that might just change the way you work with consultants in your company and what you expect from them. Anticipate your needs, define the right criteria to find the right consultant, apply a sensible sourcing process, define your expectations and measure the performance. Nothing groundbreaking, just common sense!

Transcript
Hello and welcome to episode 65 of our podcast: Smart Consulting Sourcing, THE podcast about Consulting Procurement.
My name is Hélène, and I'll be your host today.
Each week I'll give you the keys to better use, manage and source consulting services.
In Last week's episode, I discussed how to lead a make-or-buy analysis for a consulting project
The make-or-buy analysis for the consulting category is not different from other categories. Whenever you launch a project, you have to ask yourself if your project is a good candidate for outsourcing to consultants and if it will create more value than leading the project internally. Besides Make-or-Buy Decisions are usually closely related to Demand Management. Therefore, putting together a Framework that allows you to make both decisions simultaneously can save you some time and energy.
In this week's episode, I wanted to give you 5 Real-Life Lessons About Consulting Sourcing.
Before starting, let me remind you that this Podcast is different from other sourcing-related podcasts. We only focus on the management consulting category. You will find some commonalities with other professional services though since these categories are intangible as well.
But let's get started.
The first lesson is: sourcing doesn't start when you select the consultants you want to work with.
It starts with a problem you want to solve. You could say sourcing starts even before you identify the projects that are sourcing candidates.
It is important to start investing some time early on to understand the challenges your company is facing or what strategy you want to develop in the next 2/3 years.
Only by understanding your firm's vision for the future and its current challenges, you will be able to identify the consulting firms you need in your panel of preferred providers.
It will allow you to verify references, evaluate providers for a specific capability, pre-negotiate the terms and conditions, and sign a framework agreement. Then when your internal stakeholders need something, they'll be able to speed up the process. You'll also be able to negotiate better prices and discounts on volume.
The second lesson is:  there is no perfect consulting partner.
This might be shocking, but it's true! The market for consulting services does not offer a "one size fits all" solution. Not only will you have to make the usual trade-off between quality and price, but also between expertise and geographical coverage, intimacy & stability vs one-time/fresh skills…
The key here is to find your sweet spot in the middle of these trade-offs. You need to be able to profile each potential provider using a set of criteria that are important for your project.
Once you've decided which criteria matter the most to your project, it is time to compare each potential provider against these criteria. The best way to do this is to rank them in a given order and then score them against relevant criteria. Keep in mind that your goal here is not necessarily to find the perfect match but rather to identify the best options for your needs.
The third lesson I wanted to highlight today is: the sourcing process is the same as any other category.
Many companies involve Procurement in the last stages of the sourcing process, often to negotiate the price, even for rather large or expensive projects.  And very often they take shortcuts in the sourcing process. Because they think it doesn't apply to management consulting.
They don't write requirements, they work with the consultants to help them define their needs. They don't screen the market, they work with consultants they already know.
Don't get me wrong. You don't need to have precise requirements to launch a project. That's called an RFI (Request for Information) process. And you are not obliged to screen the market or launch a competition when you have perfectly abled consultants in your panel.
But all these decisions can be made within a structured sourcing process and with the support of procurement professionals. Because unless you have worked in procurement and in consulting before, there is a good chance that you'll be at a disadvantage when sourcing consultants.
The fourth lesson I wanted to highlight today is: consultants expect their clients to know what they want before entering into a project.
I'm sure this sounds like common sense, right? Well, let me tell you a true story. A few months ago, I sourced a project for one of my clients. I called a consulting firm that we have worked with before because they had the right profile for the project and I knew first hand they were delivering high-quality work.
I started explaining to the partner the project and told him that the scope was still a bit blurry and we were working on it. He told me: "That's why I like working with you. Your RFPs are always clear and reasonable. You save us so much of the back and forth with the clients…"
What does it tell us? That consultants usually hate vague requirements, because they are taking too many risks when they make a proposal.
The fifth and last lesson is:  you should always measure performance.
I hear some of you thinking: "But you just said consulting was intangible…"  It is. But that doesn't mean you can't measure it!
And now you are thinking: "Measure performance? How does that work, exactly?"  Let's go back to the beginning of the process: when you define your requirements.
Everything you want from your project should be translated into what we call success indicators. They are what you check at the end of the project to make sure that what was promised was delivered.
In my experience, consultants love getting feedback on their work. "What was great in their work? What wasn't? What could they have done better?"
They will appreciate the feedback at a personal level and it will help them improve their own processes.
And what about you? Well, measuring the performance early on in the project will help you make sure the projects stay on track. And it can give you input to build improvement plans with your preferred providers.
So there you have it: five lessons about consulting sourcing that might just change the way you work with consultants in your company and what you expect from them.
That's where our episode ends, thank you for listening. Next week, I'll try to define what is consulting.  I know not everyone agrees on this. That might not be easy, but I promise to do my best to give you a clear answer that is not too complicated. You will not have to take notes during the episode…
If you want more episodes go to podcast.smartconsultingsourcing.com.
And if you have any questions, or want to learn more about what we do at consulting quest, just send me an email at helene.laffitte@consultingquest.com
You can also have a look at our website consultingquest.com to know more about our book and download free templates & guides to improve your consulting sourcing.
Bye and see you next week! Au revoir!
Hélène Laffitte is the CEO of Consulting Quest, a Global Performance-Driven Consulting Platform and author of "Smart Consulting Sourcing", a step by step guide to getting the best ROI from your consulting. With a blend of experience in Procurement and Consulting, Hélène is passionate about helping Companies create more value through Consulting.