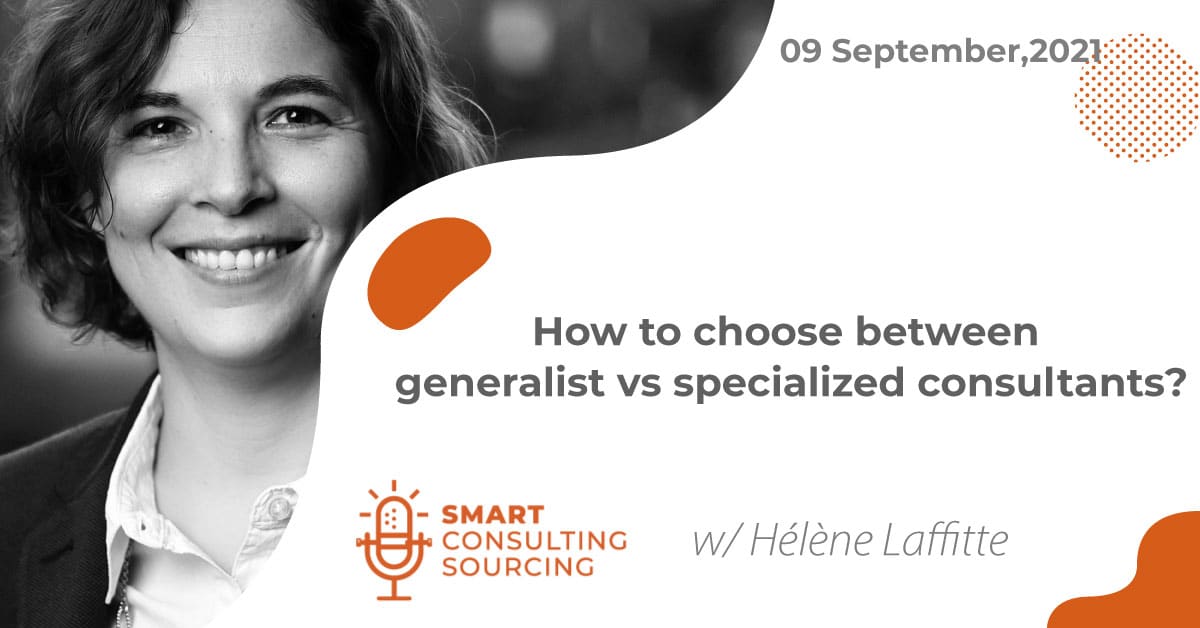 If you're looking for the right consultant, several factors will help you decide whether a specialist or a generalist is right for your needs.
On this week's Smart consulting Sourcing podcast, I discuss how to choose between generalist vs specialized consultants?
Key Takeaway: There are pros and cons working with both generalists, specialists or niche player. There is no one-fits-all solution. If you find yourself at a crossroads and need to turn to a consultant, don't worry. Take the time to assess your needs thoroughly, and do your research. That will allow you to decide what type of consultant would better fits your needs.

Transcript
Hello and welcome to episode 56 of our podcast: Smart Consulting Sourcing, THE podcast about Consulting Procurement.
My name is Hélène, and I'll be your host today.
Each week I'll give you the keys to better use, manage and source consulting services.
This week, I'll discuss how to choose between generalist vs specialized consultants
Last week, I told you how to create value through demand management
We saw that Demand management is a well-known tool for procurement teams. But the implementation for intangible categories such as consulting is not always easy. But implementing the simple steps I described in the podcast will get you closer to a best-in-class consulting sourcing capability. 
But today I wanted to give you some tips to choose between generalist and specialized consultants.
Executives often wonder how to approach the decision to hire a consultant specializing in one aspect of their Industry or a consultant who has proven results in most areas but doesn't have any specific niche experience. After all, the population of consultants has exponentially increased in response to corporate belt-tightening in the area of permanent staffing.
If you are looking for the right consultant, some factors will help you decide between a specialist or generalist.
But, first, think about what is good about each type of consultant. Then decide what would be the best choice for your needs.
Before you start to think about finding a consultant, it is important that you know what problem you are trying to solve with the help of a consultant. It is better if you can explain the problem in detail. This way, when deciding between generalists and specialists, you will know which one suits your needs best.
Then think about your budget allocation. You want to procure the right consultant to create new solutions— but not at any cost. Identify the problem correctly and the impact you expect to know how much you are willing to invest in the project.
Once you are ready, you can start searching for the consulting firms that fits your needs.
As you probably know by now, the consulting Industry started with a specific focus on manufacturing optimization, then encountered a period of growth in strategy work. The capability dimension was the driver, and the Industry served a secondary dimension. Several consulting gurus such as Bill Bain or Dominique Mars even pushed the theory that serving only one client per Industry was the best way to avoid conflicts of interest.
However, companies are getting more and more specialized. And the industry specialization is becoming a must for many clients and a commercial and productivity lever for many companies. To date, we can observe three kinds of positioning for consulting firms. 
Generalist Consulting Firms offer a vast scope of consulting services. They usually cover most of the matrix Industry vs. Capabilities. For instance, Oliver Wyman is a generalist consulting firm working with almost all industries on Strategy, Sales&Marketing, Operations, Organization, or Finance. Human Capital Consulting is provided by its sister company in the Marsh & McLennan Group: Mercer HR.
Most major consulting firms are generalist: McKinsey, BCG, Kearney, Bain & Company, LEK, …
Their clients can find broad-based knowledge that can adapt flexibly to their needs. They will also realize economies of scale and scope. In addition, the consultants often have experience in several industries and capabilities, making them adaptable.
But they sometimes have a superficial knowledge of a given industry or function. And it is not uncommon in large Consulting Firms to see the same consultant move from a strategy project in Financial Services into an operations project in Manufacturing.
Next, Specialist Consulting Firms are focused on a certain type of consulting. For instance, Emerton is a company that focuses on just seven industries: energy, Industry, consumer, healthcare (or medical), technology (or electronics), mobility, and aerospace.
Specialists build knowledge and capabilities at a faster rate than generalist consultants. They keep current on new findings and industry news and understand the competitive pressures within their specialized Industry.
But they tend to see all the issues through their area of expertise, which can be narrow-minded. And, when working with industry specialists, Chinese walls to ensure data confidentiality are more difficult to enforce.
Finally, Niche players are Consulting Firms that offer a specific service in a particular industry. They are the intersection point in a matrix of services and sectors. Contax Partners, for instance, is a Niche Consultancy focused on Strategy in the Energy Vertical in the Middle East and Africa. ZS Associates was focused exclusively on Sales and Marketing in Pharma for a long time before branching out in other industries.
Nich players know their sector better than generalist consultants that work in multiple industries and better than specialist consultants that offer one service in various sectors.
They don't work well on projects that cross-industry or capability lines. They see everything through their expertise prism, like specialist Consultants, and might not come up with out-of-the-box thinking.
As you can see, there are pros and cons for both generalists, specialists, or niche players. There is no one-fits-all solution. If you find yourself at a crossroads and need to turn to a consultant, don't worry. Take the time to assess your needs thoroughly, and do your research. That will allow you to decide what type of consultant would better fit your needs.
And if you are still stuck, you can always call me ?
That's it for today. Next time, I'll answer 7 questions about internal vs external consultants.
In the meantime, if you have any questions, or want to learn more about what we do at consulting quest, just send me an email at helene.laffitte@consultingquest.com
You can also have a look at our website smartconsultingsourcing.com to know more about our book and download free templates & guides to improve your consulting sourcing.
Bye and see you next week! Au revoir!
Hélène Laffitte is the CEO of Consulting Quest, a Global Performance-Driven Consulting Platform and author of "Smart Consulting Sourcing", a step by step guide to getting the best ROI from your consulting. With a blend of experience in Procurement and Consulting, Hélène is passionate about helping Companies create more value through Consulting.