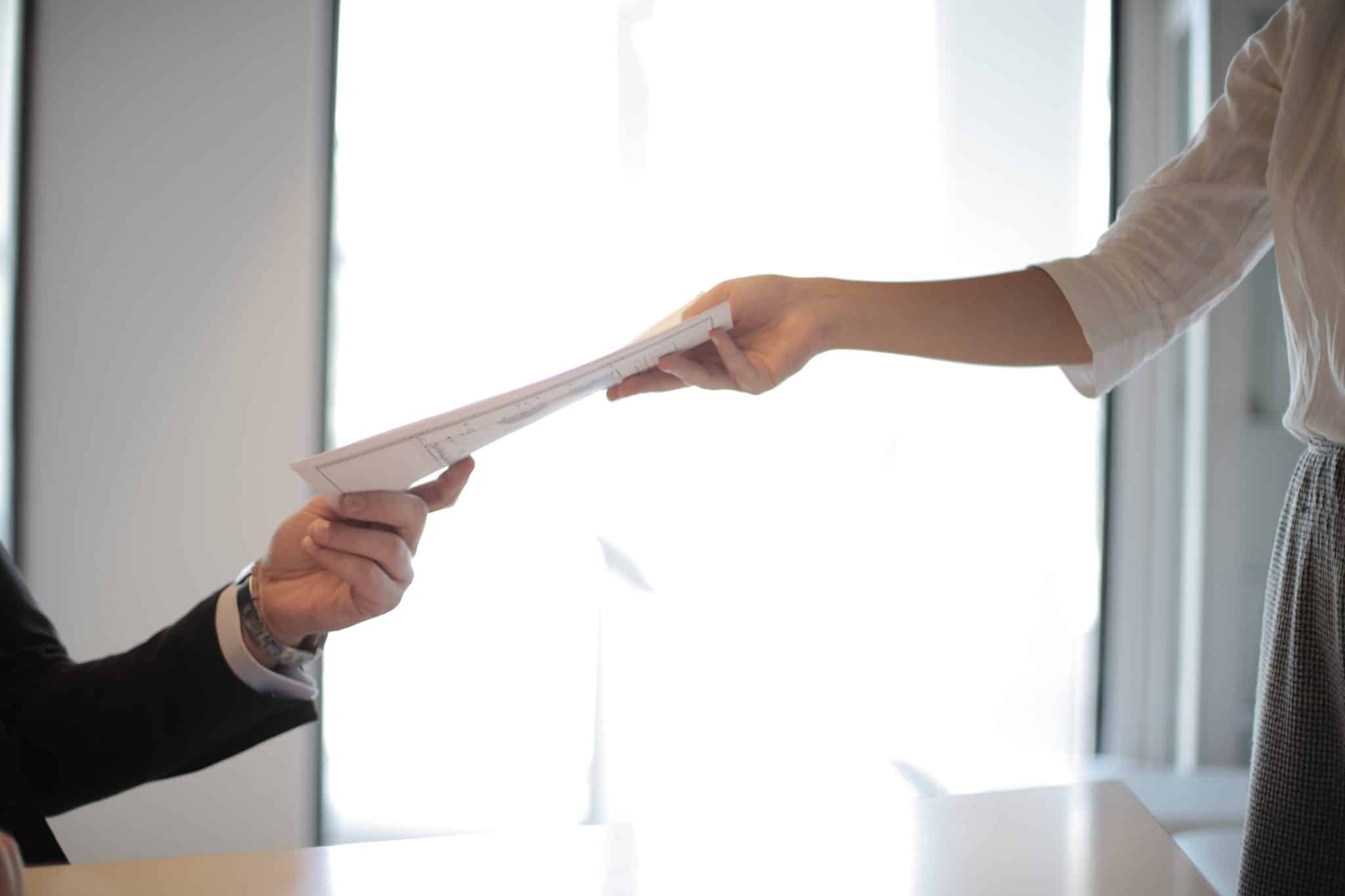 What Is the Right Resume for Consulting?
Having the right resume can make all the difference when it comes to landing your dream consulting job. A resume that highlights your strengths, showcases your achievements, and effectively communicates why you are the perfect candidate for the job is crucial.
Unfortunately, many applicants fail to make it past the initial screening phase, with over 60% of applications being rejected. This is why it's so important to take the time to craft a resume that stands out from the crowd.
So, what exactly does the right resume for consulting entail? Let's delve into some key tips and tricks to help you secure that coveted consulting position. But before that, we'll start with the basics.
What Is a Resume for Consulting?
A resume for consulting is a professional document that highlights your skills, qualifications, and experiences relevant to the field of consulting. It serves as a comprehensive summary of your background, education, work history, and accomplishments, with the goal of convincing potential employers or consulting firms that you possess the necessary expertise and capabilities to excel in a consulting role.
The purpose of a consulting resume is to present a clear and concise overview of your professional profile, showcasing your ability to solve complex problems, provide strategic advice, and deliver valuable insights to clients. It should emphasize your analytical thinking, communication skills, project management abilities, and industry knowledge.
When creating a consulting resume, it is important to tailor it to the specific consulting role or firm you are targeting. Consulting firms typically have specific criteria and requirements for candidates, and tailoring your resume to match those expectations can greatly increase your chances of getting noticed.
Who Requires a Consultant Resume?
A consultant resume is typically required for individuals who are seeking employment in the consulting industry. This industry encompasses a wide range of fields, including management consulting, IT consulting, financial consulting, strategy consulting, human resources consulting, and many more.
Consulting firms, both large and small, often rely on resumes to evaluate and assess the qualifications and suitability of candidates for consulting roles. Additionally, companies outside of the consulting industry may also seek individuals to provide specialized expertise for specific projects or initiatives.
Consulting job aspirants who may require a consultant resume include:
#1. Recent Graduates
Individuals who have recently completed their education and wish to start a career in consulting may need to create a consultant resume to showcase their academic achievements, relevant course work, internships, and any consulting-related experience.
#2. Experienced Professionals
Professionals with prior work experience in consulting or related industries may need a consultant resume to highlight their accomplishments, project experience, client engagements, and specific expertise in a particular field.
#3. Career Changers
Individuals who are transitioning from another industry into consulting may require a consultant resume to emphasize transferable skills, relevant certifications, and any consulting-related course work or training they have undertaken.
#4. Freelance Consultants
Independent consultants who offer their services on a project-by-project basis may need a consultant resume to demonstrate their expertise, client portfolio, successful engagements, and the impact they have made on previous projects.
How To Prepare the Right Resume for Consulting?
Creating a top-notch consulting resume requires a strategic approach that not only showcases your skills but also highlights your qualifications and achievements. The right resume should be concise, relevant, and written from a consulting perspective. Thus, here are the essential steps you need to follow in order to create an effective resume:
#1. Carefully Go Through the Job Description
The job description is a treasure trove of information for any job seeker. It provides invaluable insight into what the employer is looking for in an ideal candidate.
It is essential to scrutinize the job description thoroughly, paying close attention to the qualifications and skill requirements. Additionally, incorporating keywords from the job description into your resume can significantly improve your chances of success.
By doing so, you demonstrate to the hiring team that you possess the precise attributes they are searching for, helping your resume stand out from the rest. Trust us; being smart about aligning your resume with the job description can make all the difference in landing your dream job.
#2. Invest More Time in Researching
As job seekers, we all know that tailoring your resume to match the company's needs is a crucial step in the application process. However, it's not just a matter of tweaking a few bullet points here and there.
In order to truly stand out as an applicant, you must invest time in researching the company's values and culture. By doing so, you can gain a better understanding of what the organization is looking for and provide compelling evidence that you are the perfect fit for the job.
Take a deep dive into the company's website, social media pages, and even talk to current or former employees. Paying attention to the company's vision and mission statements, staff policies, and recent industry activities will all help you to create a tailored resume that showcases your skills and tells the story of how you would fit seamlessly into the company's culture.
#3. Take Care of The Nitty Gritty
As you craft your resume, keep in mind that the first thing a hiring manager will see is your contact information. It may seem like a small detail, but this section carries weight in the application process.
Not only does it provide a means for the hiring manager to notify you, but it also serves as a representation of your professionalism. Make sure to include your full, official name, a reliable email address, and a phone number where you can be reached.
And if you have a relevant portfolio or website to share, include it too. Don't let careless errors tarnish your image – double-check this section for accuracy and spelling mistakes. Remember that attention to detail is key in any successful job search.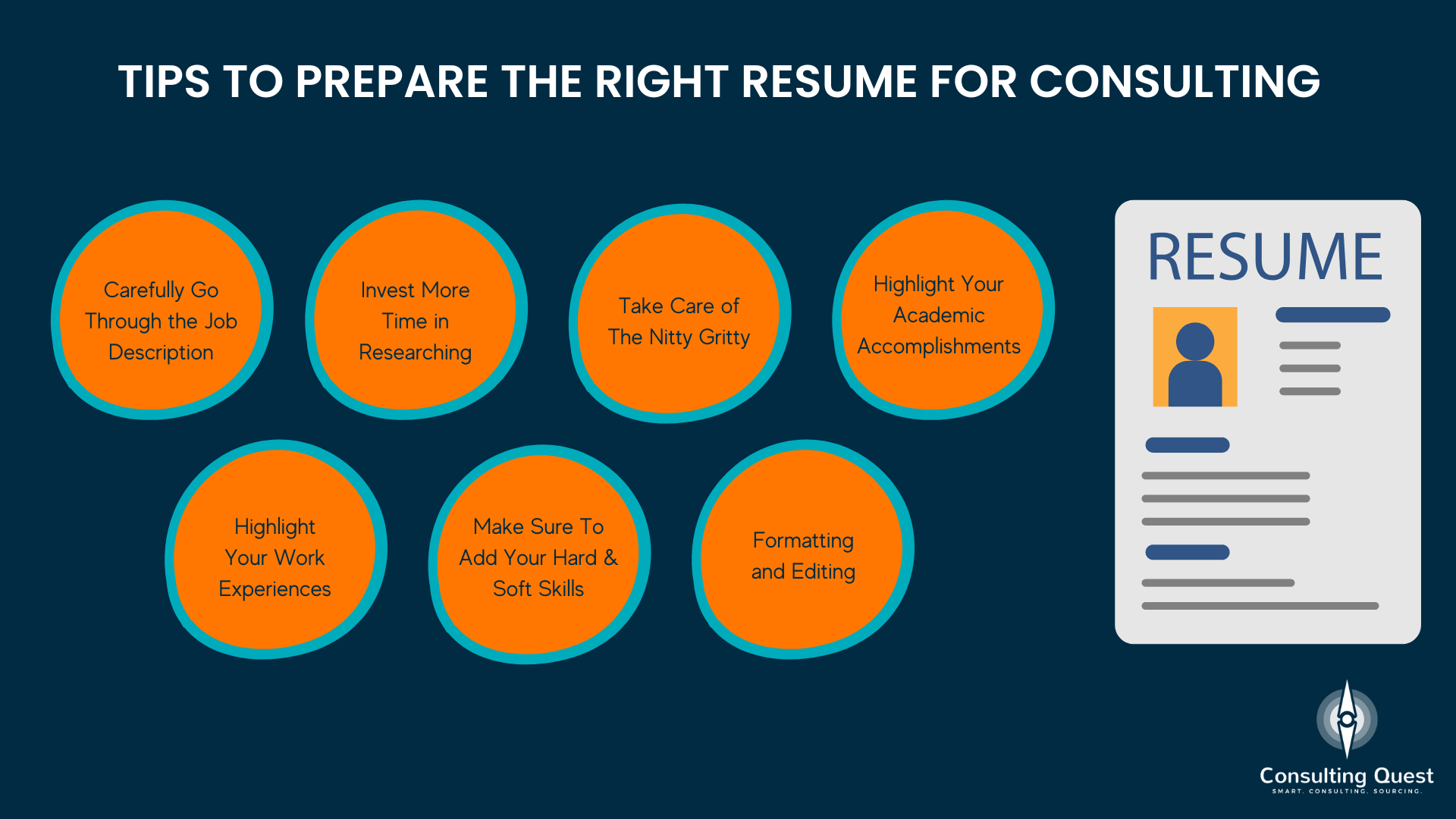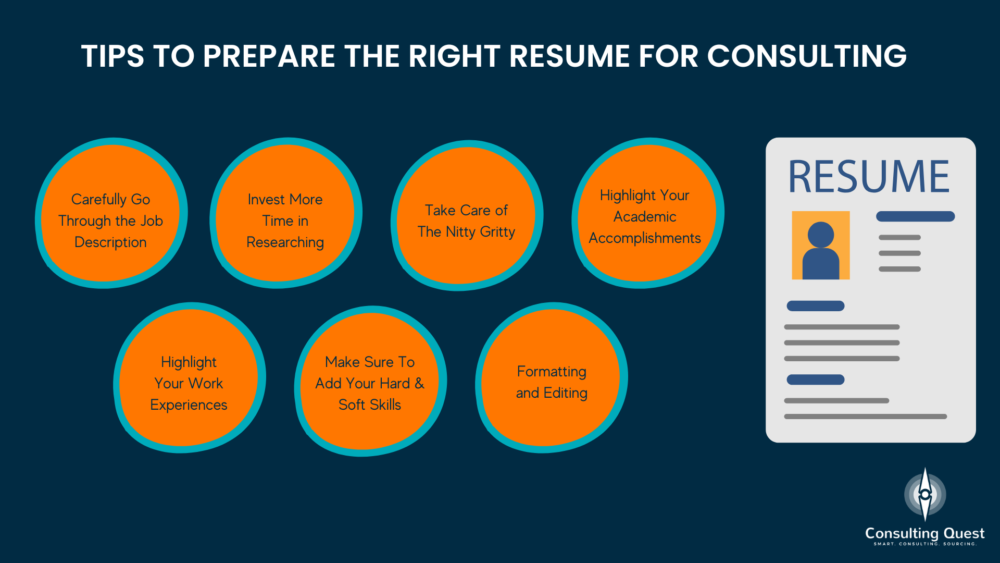 #4. Highlight Your Academic Accomplishments
When preparing a resume for a consulting position, it's important to showcase your academic accomplishments as they demonstrate your intellectual capabilities and ability to handle complex problem-solving tasks. Here are some tips on how to highlight your academic achievements effectively:
a. Start by creating a dedicated education section at the beginning of your resume. Include the name of the institution, degree obtained, major, and graduation date. If you have multiple degrees or relevant certifications, list them in reverse chronological order.
b. If you have taken courses that are directly applicable to the consulting field, consider including a subsection that highlights these relevant course work. This could include classes in business strategy, finance, economics, statistics, or any other subjects that are relevant to consulting.
c. If you have received any academic honors or awards, such as Dean's List, scholarships, or academic competition victories, make sure to include them in a separate section or within your education section. These achievements indicate your dedication and excellence in your academic pursuits.
d. If you have completed any research projects or a thesis during your academic career, provide a brief description of the project and its significance. Emphasize any analytical or problem-solving skills you developed during this process.
e. Whenever possible, quantify your academic achievements to provide context and make them more impactful. For example, mention your GPA if it is particularly high, or specify the percentage or rank you achieved in your class.
f. If you have participated in extracurricular activities that are relevant to consulting, such as case competitions, business clubs, or leadership roles in student organizations, include them in a separate section. These experiences can demonstrate your teamwork, leadership, and communication skills.
#5. Highlight Your Work Experiences
In today's job market, having relevant work experience is essential to land the role of your choice. To catch the eye of your potential employer, it is crucial to highlight your most recent and pertinent work experiences at the top of your resume.
Be sure to include details about your employer, role, and period of employment. Equally important are your job duties and workplace achievements. Quantify your accomplishments with figures and percentages wherever possible.
Not only will this demonstrate your successes to your potential employer, but it will also showcase your ability to track and measure your results. By placing emphasis on relevant work experience and measuring your achievements, you can stand out from the competition and score that dream job.
#6. Make Sure To Add Your Hard & Soft Skills
Your technical skills are what set you apart from the competition. It's important to showcase your expertise right off the bat on your resume. But don't stop there – including both hard and soft skills will help paint a fuller picture of your capabilities.
Whether you choose to incorporate them into your work experience section or create a standalone section, make sure you pay close attention to the skills mentioned in the job description. By including relevant skills, you can show potential clients that you're the expert they've been searching for.
#7. Formatting and Editing
The right resume is not just a document detailing your work experience, education, and skills. It is a representation of who you are as a professional. To make that representation stand out, formatting and editing are critical.
Consistency is key when choosing a font that is attractive, easy to read, and professional. However, don't forget about the importance of proofreading your resume to ensure there are no errors or typos.
Lastly, it's crucial to tailor your resume to suit the specific requirements of your potential clients. By doing so, you are showing them that you care about their needs, and you are the right candidate for the job.
Closing Thoughts
As you've just read, the right resume for consulting is one that accurately reflects your strengths and experience. You should always customize it carefully to fit each role you are applying for.
Your goal should be to make the recruiters' job easy by outlining your capabilities at a glance. Most importantly, don't forget to link your resume to a portfolio of work or project references when possible.
Finally, practice a few rounds of interviews with increasing difficultly so that you're prepared when it's time to showcase what makes you uniquely qualified for this position and industry.
Good luck as you pursue your dream job in consulting!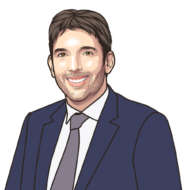 Laurent is the Chairman and Co-founder of Consulting Quest. Focused on greater value creation, and being thoroughly familiar with Consulting, Laurent has sourced and sold millions of dollars worth of Consulting over the course of his career. Prior to joining Consulting Quest, Laurent was Executive Vice President Oil and Gas at Solvay and Senior Partner Transformation at Oliver Wyman.