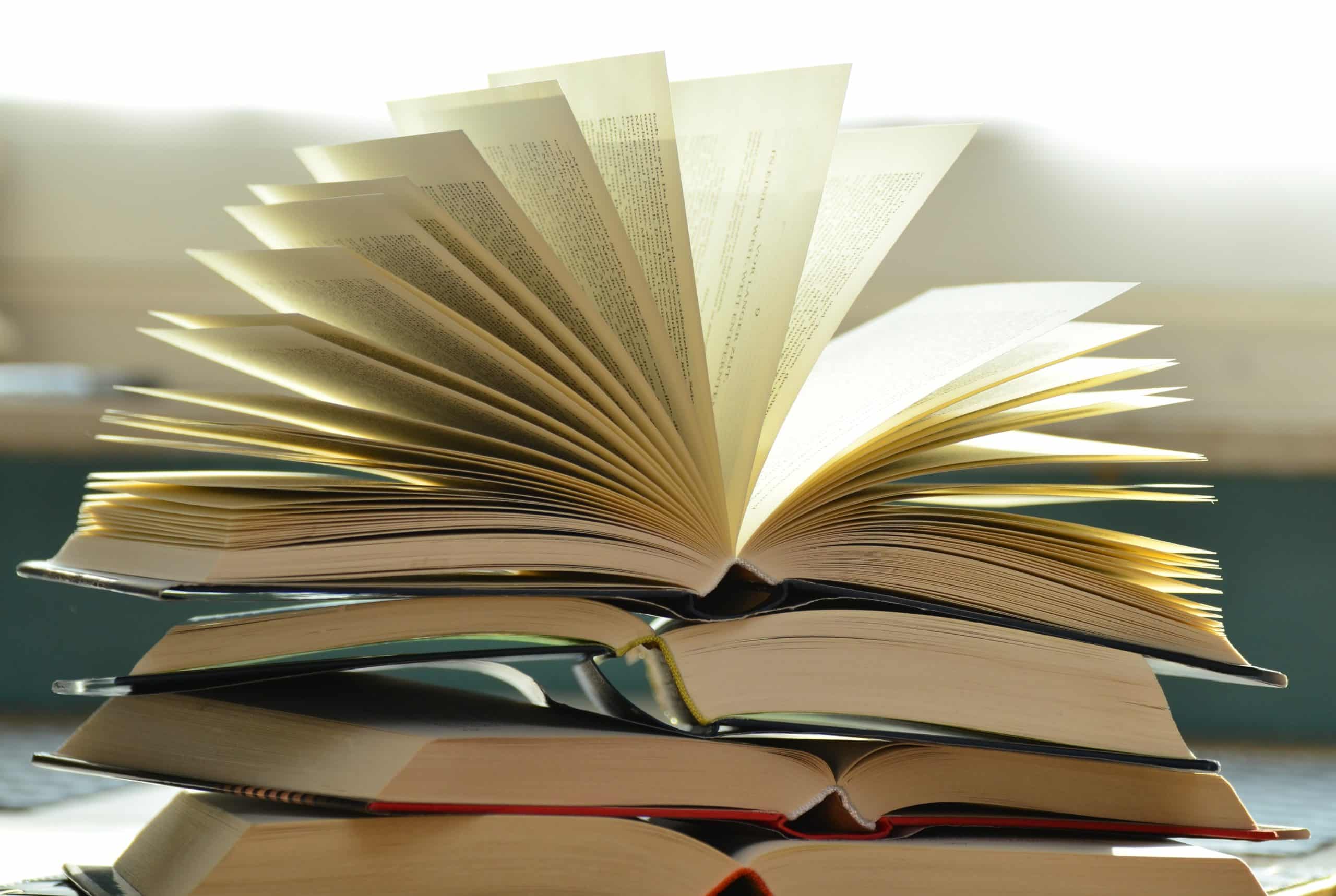 Top 25 Management Books for Consultants (Part 1)
As a consultant, it's important to stay ahead of the curve and continue building your management knowledge base. Whether you're searching for advice on how to streamline projects, bring together teams more effectively or increase productivity in clients' businesses, having ready access to helpful resources is invaluable for staying on top of current trends and best practices.
Keeping that in mind, we've compiled a list of 25 must-read management books for consultants from some of the industry's most respected thought leaders that are sure to give any consultant an edge within their field.
Dive into this curated selection of books for consultants and get inspired – both about what you can do for your clients now and what you could be doing beyond today!
Management Books for Consultants (Part 1)
In part 1 of our top 25 management books for consultants, we've selected the following books for you that you must read. Let's take a look!
#1. Essentialism
Essentialism: The Disciplined Pursuit of Less by Greg McKeown offers readers a powerful blueprint for making the most important decisions in life. It challenges us to reconsider our beliefs about success and achievement, and encourages us to invest our time and energy in activities that are essential to reaching our goals instead of focusing on everything that comes our way.
By highlighting the importance of choosing meaningful tasks instead of tackling unnecessary or low-value activities, this book can stimulate readers to live lives with clarity and purpose. Filled with inspiring stories and sound advice, Essentialism is an indispensable resource for anyone seeking to become more focused, effective, and successful.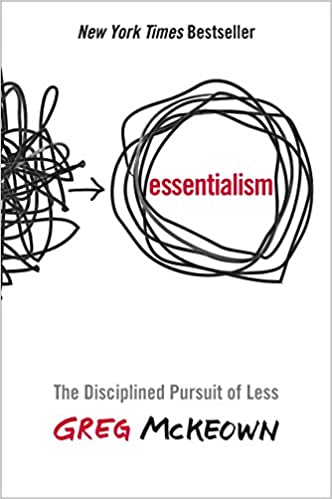 #2. The Positive Mentality
The Positive Mentality: Time Management, Sleep and Positive Routines by Steve Nico Williams is a great resource for anyone looking to improve their daily schedule. The guide provides a comprehensive look at why it is important to have positive ambitions, routines and behaviors.
The author explains how incorporating healthy sleep habits, better time management skills, and thoughtful decision making can help people create a positive lifestyle. This book will give those struggling with their day-to-day routine the chance to build stronger strategies that will allow them to get the most out of their day by having the right attitude.
For those who want to become more organized, more productive and gain more success in life through healthier practices and developing good habits, this book is an invaluable read.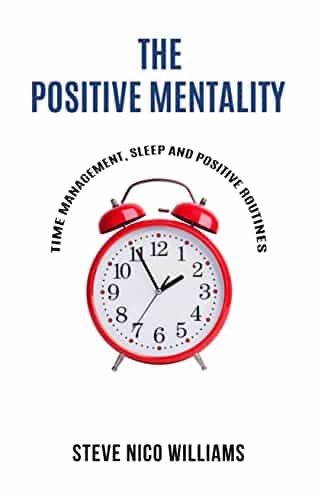 #3. The Lean Startup
The Lean Startup: How Today's Entrepreneurs Use Continuous Innovation to Create Radically Successful Businesses by Eric Ries provides readers with a comprehensive breakdown of his revolutionary approach to the success of any business.
This step-by-step guide offers innovative strategies based on the principles of 'validated learning', rapid iteration, and constant adaptation. Ries argues for the importance of measuring progress so that one can be sure that the decisions being made are in line with achieving success.
With an emphasis on fast results and experiments that allow entrepreneurs to pivot quickly as customer needs change and technology advances, this book is essential reading for anyone looking to expand their business or get started in today's highly competitive market.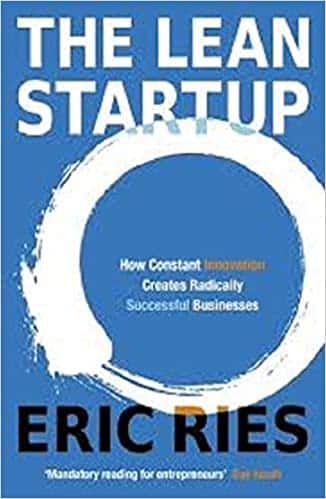 #4. The Business of Platforms
The Business of Platforms: Strategy in the Age of Digital Competition, Innovation, and Power by Michael A. Cusumano, Annabelle Gawer, and David B. Yoffie is an invaluable resource for anyone looking to better understand the way businesses are shaped by platforms in the digital world.
Through thorough research and analysis, these authors look at topics like business strategy, a platform's lifecycle, technological disruption, and much more to provide readers with up-to-date information on this rapidly changing environment.
This book is and essential read for those looking to stay ahead in the world of digital competition and break through the clutter to create real value.
#5. The Innovator's Dilemma
The Innovator's Dilemma: When New Technologies Cause Great Firms to Fail by Clayton Christensen is a seminal book in the history of management and business strategy.
The book examines why, in spite of having the financial resources, market share, and industry experience to do so, large companies sometimes fail to capitalize on revolutionary new technologies and subsequently lose their dominant market positions.
Christensen's book seeks to explain the reasons why some organizations succeed while others fail with respect to innovation. He argues that innovation initiates a cycle of disruption which ultimately can leave established organizations vulnerable despite their current success.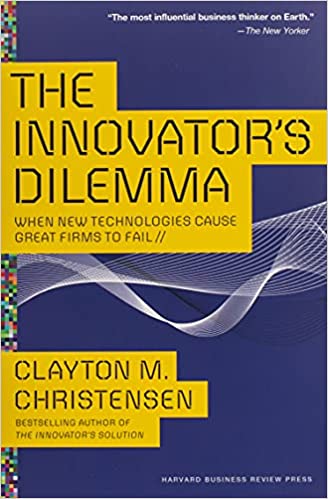 #6. Playing to Win
Playing to Win: How Strategy Really Works by A.G. Lafley and Roger L. Martin is the perfect read for anyone looking to understand and successfully implement successful strategies in their own lives and businesses.
Written from the perspectives of two of today's leading management strategists, this book explores the concepts behind an effective strategy and provides readers with actionable steps for success. Drawing on dozens of case studies, Lafley and Martin present an in-depth look at how to hone strategic thinking skills and introduce ideas such as 'choice architecture' into your plans.
With a robust blend of data-driven analysis and inspiring stories, this comprehensive guide offers thought-provoking insights on how to adeptly navigate any challenge or opportunity that comes your way. Whether used as a companion or stand-alone resource, Playing to Win is guaranteed to help you create winning results.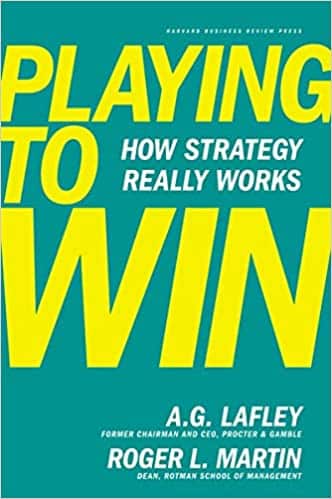 #7. What They Don't Teach You at Harvard Business School
Mark McCormack's book, What They Don't Teach You at Harvard Business School: Notes from a Street-smart Executive, is an important first-hand account of the real world of success.
Written by one of the most successful and influential figures in the sports marketing industry, McCormack gives readers insight into the wisdom that comes with learning through authentic experience. Through illustrative stories from his days as a young law student and his journey to lead and shape the world of sports marketing, he shares what he knows about succeeding and breaking through boundaries.
This book provides an invaluable resource for aspiring businesspersons who are keen to unlock the keys to success in their own worlds. In doing so, it helps dispel some of the glamour typically associated with success in business, replacing it instead with realistic advice and strategies gleaned from exposure to real-world challenges.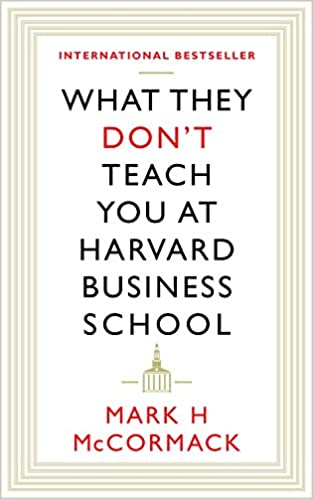 #8. Perspectives on Strategy
The book Perspectives on Strategy from the Boston Consulting Group edited by Carl W. Stern and George Stalk Jr. is an invaluable resource for those who want to learn more about the fundamentals of business strategy.
Covering a wide range of topics such as market assessment, portfolio management, growth strategies, digital transformation, and leadership development, it provides essential insight into the importance of effective planning and decision-making.
Drawing on perspectives from various writers within the organization, each author approaches their subject with a unique style that offers readers an opportunity to gain varied insights into how different strategies are applied in a business context.
So, no matter your experience level or industry focus, this book has something worthwhile to offer any aspiring professional looking to learn more about business strategy today.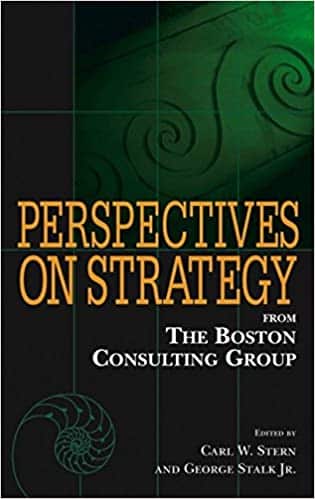 #9. Principles
Ray Dalio's novel, Principles: Your Guided Journal, provides readers with an opportunity to create their own unique principles to help them reach their goals and dreams.
The book encourages readers to think critically about their life experiences and develop a personal set of values that can be used as a compass for guiding decisions and actions.
As part of the process, readers are asked to assess different situations objectively, look at potential outcomes from multiple perspectives, and create specific plans for achieving success.
Ultimately, this book gives everyone the power to control their destiny by helping them understand their habits and patterns so that they can confidently pursue the life and career they choose for themselves.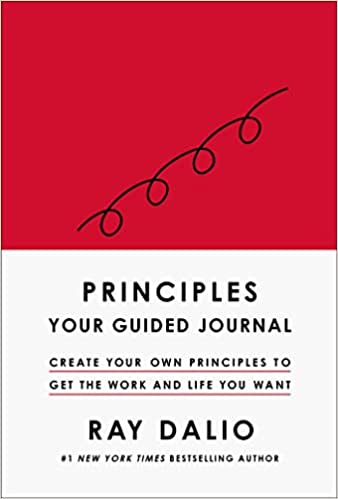 #10. How Clients Buy
How Clients Buy is a practical guide that serves as an invaluable tool for all professionals in the consulting and services industry. In this book, authors Doug Fletcher and Tom McMakin explain the deeper dynamics driving business development decisions, helping readers understand how to create value for their clients.
The book is filled with insightful examples of successful strategies used by some of the world's leading business organizations and outlines creative techniques to build relationships with clients.
More than just a professional consulting guide, How Clients Buy contains invaluable lessons that transform professionals into more effective salespeople, introducing strategies that organizations can use to maximize revenues in their day-to-day business operations.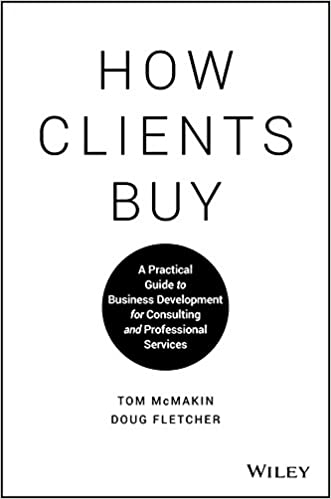 #11. Valuation
Valuation: Measuring and Managing the Value of Companies by Tim Koller, McKinsey & Company Inc., Marc Goedhart, and David Wessels is an essential resource for anyone in the business world who seeks a deeper understanding of the art of valuation.
The book provides concise explanations for even the most complex techniques and offers clear insights into valuation methods that are used across all industries. Moreover, this comprehensive book examines topics ranging from best practices for conducting valuations to methods for communicating results in a way that can be understood by upper management.
It also offers strategies that can help asset managers navigate uncertain economic times while still making sound financial decisions. With both research-based theories and real-world examples, this book should appeal not only to experienced business analysts but also to those who are new to finance.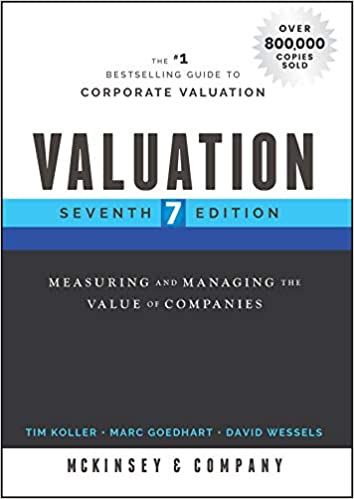 #12. The Pyramid Principle
The Pyramid Principle: Logic in Writing and Thinking by Barbara Minto is an essential guide for anyone looking to improve their written communication skills. In this comprehensive yet accessible book, Barbara explains how to organize your thoughts and make writing more coherent.
By analyzing the structure of complex problem solving and decision-making, she offers readers concrete techniques for constructing clear and persuasive messages. With helpful examples and insights, her work has been widely adopted in the corporate world for its straightforward approach to presenting ideas.
Through The Pyramid Principle, readers can learn how to analyze facts, draw conclusions, and craft arguments that will have a strong impact on their audience.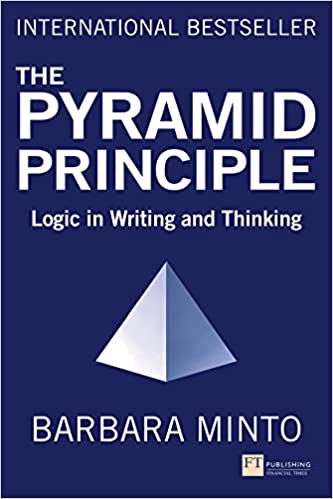 #13. The Lords of Strategy
The Lords of Strategy: The Secret Intellectual History of the New Corporate World by Walter Kiechel is an insightful and in-depth look at how corporate strategy has evolved over the course of recent decades.
Kiechel uses interviews with some of the most influential minds in the fields of management consulting and business to paint a fascinating picture of what goes on behind the walls of top corporations.
In this groundbreaking work, readers learn about topics such as the vital role played by consultants, the importance placed on team-ship, and a wide range of other innovative ways to approach strategy development.
This book serves as an essential read for those looking to gain further understanding into how companies successfully operate in today's market.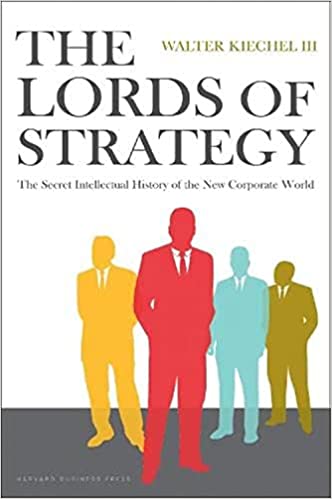 #14. Blue Ocean Strategy
Blue Ocean Strategy: How to Create Uncontested Market Space and Make the Competition Irrelevant, written by W. Chan Kim and Renée Mauborgne, is a revolutionary business book that introduces the idea of creating uncontested market space to make the competition irrelevant.
The authors detail a strategy that companies can use to explore untapped market opportunities and develop cutting-edge products and services by turning away from head-to-head competition in an existing industry and raising the bar with innovation.
The concept has been proven profitable for many corporations as a way of staying ahead of the game in rapidly changing markets. Companies should evaluate and utilize Blue Ocean Strategy principles to develop creative new ideas and preemptively address consumer needs not yet met in their sector.
Everything from choosing the right timing, selecting strategic partners, managing internal talent, delivering unique value propositions, to pricing strategically is addressed in Blue Ocean Strategy's comprehensive guide in order to execute a successful uncontested market space strategy.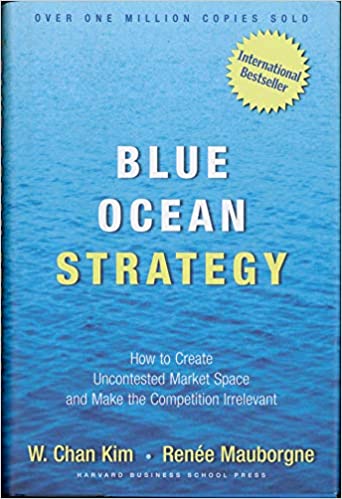 #15. Innovation as Usual
Innovation as Usual: How to Help Your People Bring Great Ideas to Life by Paddy Miller and Thomas Wedell-Wedellsborg offers a comprehensive guide to driving innovation within an organization.
The authors suggest that empowering employees, big and small, is the key to successful business innovation. They recommend assessing current processes and providing employees with innovative training opportunities in order to foster an environment of creative problem solving.
Furthermore, Miller and Wedell-Wedellsborg outline how organizational leaders can set clear and attainable goals while harnessing the power of collective decision-making.
In short, this book serves as an invaluable asset for any business looking to develop a culture that values innovation and encourages people brainstorm out-of-the-box solutions.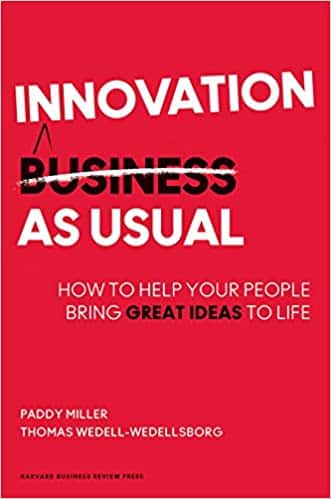 Closing Thoughts
We hope, this first installment of our top management books for consultants has provided a great starting point for any consultant, regardless of their background or specialty. This list is only the beginning, as part two will soon follow!
With this comprehensive collection of management books for consultants, you'll be sure to find something to help your own consulting business soar. Reading these books will equip you with the knowledge, strategies and insights needed to tackle whatever challenges arise in a professional consulting setting.
A Quick Note for Consultants
Before we wrap up, here's a quick note for consultants and all business minded people. Every business out there is aspiring to elevate to the next level and they need your help.
How can you convince them of the superior value that you can offer to them? Well, it's all about establishing your thought leadership and letting them be your personal brand advocates. Connect, network, and reach out to get their attention and make sure your presence establishes trust and confidence.
We understand the difficulty of finding a good platform for that purpose, which is why we suggest Improveo, a great networking hub specifically tailored for consultants.
Not only will you benefit from exploring valuable connections, but also brush up on best practices from peers in the community. Would you like to join the tribe at Improveo? Take a tour.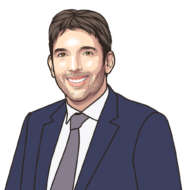 Laurent is the Chairman and Co-founder of Consulting Quest. Focused on greater value creation, and being thoroughly familiar with Consulting, Laurent has sourced and sold millions of dollars worth of Consulting over the course of his career. Prior to joining Consulting Quest, Laurent was Executive Vice President Oil and Gas at Solvay and Senior Partner Transformation at Oliver Wyman.