Consulting Sourcing Insights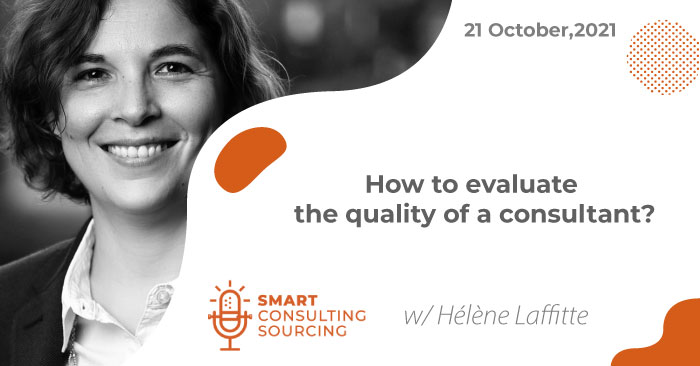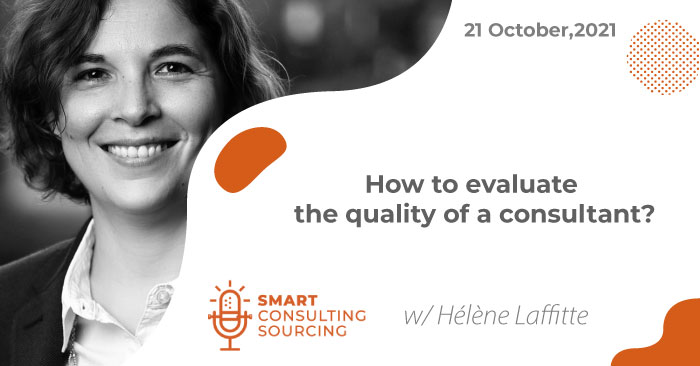 It's not easy to find a consulting firm that meets all of your criteria, but it's well worth the effort! By following this straightforward process, you'll find the best fit for you and your project.
On this week's Smart consulting Sourcing podcast, I tell you how to evaluate the quality of a consultant.
Key Takeaway: Identify what is important for you. The goal of an Evaluation system is to make sure that the Consulting Firms are delivering according to your expectations. But what are your expectations? What are the key success factors for a Consulting Project? Is it the quality of the delivery? The expertise of the team? The impact delivered?

Transcript
Hello and welcome to episode 62 of our podcast: Smart Consulting Sourcing, THE podcast about Consulting Procurement.
My name is Hélène, and I'll be your host today.
Each week I'll give you the keys to better use, manage and source consulting services.
This week, I'll tell you how to evaluate the quality of a consultant
Last week, I explained how to qualify a consulting firm for a project
We saw that Having a list of consulting firms perfect on paper is not enough to qualify them for a project. You need to find out how real they are. You can't just "go with your gut" here. A thorough reference check is the only way to make sure this consultancy is right for you.
It's not easy to find a consulting firm that meets all of your criteria, but it's well worth the effort! By following the right process, you'll be able to find the best fit for you and your project.
But today let's talk about performance.
Is it worth measuring the performance of Consulting Services? Many consulting firms will tell you that there's no need to analyze performance any further as long as consumers continue to buy. Is this truly the case?
In most procurement categories, the purchased goods' receipt and inspection are key steps in the process. When the product is damaged or not compliant with the requirements, it will be rejected. When the product is compliant but not satisfying, the provider's contract will not be renewed. When a supplier is subject to numerous claims, it will be removed from the panel. It is the ultimate penalty in the Automotive Industry, for instance.
Surprisingly, despite the significant amounts at stake, 57 % of companies don't have a systematic Performance Evaluation system for the Consulting Category. And as the cobbler's son often has the worst shoes, even consulting firms don't necessarily have a robust system for measuring customer satisfaction. They realize the client was unhappy when the account is lost. Quite an accurate measure of satisfaction, but maybe we can do better.
You know the saying: If you can't measure it, you can't improve it.
Consulting Firms are craving for feedback to engage in a continuous improvement process and monitor their relationship with their clients. And their clients are expecting them to listen to them and improve their ways of working. So why are these conversations not taking place?
Executives often see Consulting Services as a black box. Intangible Services, like consulting, are challenging to handle, and measurement can be tricky. It seems impossible to translate impact or trust into metrics. But companies know from experience that even intangible objectives can be measured. Since Peter Drucker has popularized management by objectives in the 50s, it became a standard in General Management. SMART objectives[1] are used across the board to help employees have a clear understanding of their roles and responsibilities.
The same can apply to Consulting Services. When you hire a Consulting Firm, you have some expectations such as the quality of the deliverables, the ability to understand your business, build trust with the stakeholders, etc.
Why not measure the achievement of these objectives?
Let me tell you another saying that I like a lot: Without data, you are just another person with an opinion.
Consultants are kings for building elaborate dashboards, KPIs, and management systems to track improvement performance. But, strangely, they rarely taste their own medicine. As a result, management consulting remains an informal business when measuring and proving its own impact.
Implementing a systematic Performance Evaluation specific to Consulting Services is a cornerstone of the Consulting Category management. The benefits can be seen at different time horizons.
In the short term, you can use it to trigger a post-mortem analysis. In other words, when a project is over you'll be able to find quickly what went well and what did not go well in order to find out which lessons can be learned from it.
The beginning of the implementation can be rocky. However, being attentive to feedback from the main departments or business lines using consulting can help procurement identify the Consulting Firm with performance issues and gather the necessary information to build the right improvement plan.
Mid Term: At this stage the entire organization will have a better understanding of how this service contributes to success or failure. A systematic approach means that each team member is involved in the process and has a shared understanding of the purpose of their contributions.
Longitudinal tracking of your providers' performance is the only objective way to monitor the providers, benchmark their performance, and identify high and low performers: three essential elements to keep a fluid Preferred Supplier List. This analysis will also help you to identify capabilities with insufficient performance. In fact, you can be very well equipped in Marketing and struggling on the innovation front.
Long Term: This information is valuable throughout the year on several levels: you have now an opportunity to benchmark with previous projects and you can measure KPIs across teams within your own business unit.
The purpose of aligning your Consulting Spend with your Strategy is to maximize the Value for Money you invest in consulting. Year-Long performance evaluation of your Consulting Projects' impact will help you validate your decisions and make sure the money has been well spent with the expected impact.
Don't forget that you can evaluate the performance at all stages of a Consulting Assignment. Mid-project assessments are a healthy practice on very large projects. Otherwise, post-mortem analysis might well be aptly named.
What do you need to measure? You have built or used a Performance Evaluation System before. It is not rocket science. Keep in mind a few common-sense tips:
Identify what is important for you. The goal of an Evaluation system is to make sure that the Consulting Firms are delivering according to your expectations. But what are your expectations? What are the key success factors for a Consulting Project? Is it the quality of the delivery? The expertise of the team? The impact delivered?
Consistency is key. You can decide to have a specific assessment for each project based on the key deliverables. However, if you want to leverage benchmarking, you have to find the right granularity to build a standardized evaluation. Also, you need to use it on a systematic basis to create statistical relevance. You may also want to use third parties in performance measurement.
Think human. Don't forget that the driver for a Consulting Project's success is very often the Partner or the Project Manager in charge. His knowledge, expertise, and behavior are what you are assessing for your project. You can decide to assess the performance of each consultant in the team – pretty time consuming, with little impact for you – up to the performance of a company as a whole on the project – which can make sense for a small consulting firm but is more questionable for a big 4.
When you are building your questionnaire, don't forget to include a Consulting Project's soft aspects. The ability to build trust, create buy-in or transfer knowledge, for instance, are things that you might want to look at depending on the project's purpose.
Do not hesitate to ask for feedback on how the project unfolded and what your company could have done better. Some companies will be very sharp in expressing their needs but fail in achieving internal alignment. Some others might struggle to formulate what they want or define unrealistic requirements (time or budget-wise). Capturing this feedback will help you to increase progressively your capacity to use and manage consultants.
Evaluating the performance of your consulting projects will give the keys to improve the value of your investment, and the satisfaction of your internal clients. Others will claim that consulting is intangible, making it impossible to quantify, but this is merely a pretext to prevent change. Other domains have succeeded in defining solid evaluation systems for intangible results.
And this concludes our episode. Next time, I will try to answer the question: do you always need global consultants for global projects?
In the meantime, if you have any questions, or want to learn more about what we do at consulting quest, just send me an email at helene.laffitte@consultingquest.com
You can also have a look at our website smartconsultingsourcing.com to know more about our book and download free templates & guides to improve your consulting sourcing.
Bye and see you next week! Au revoir!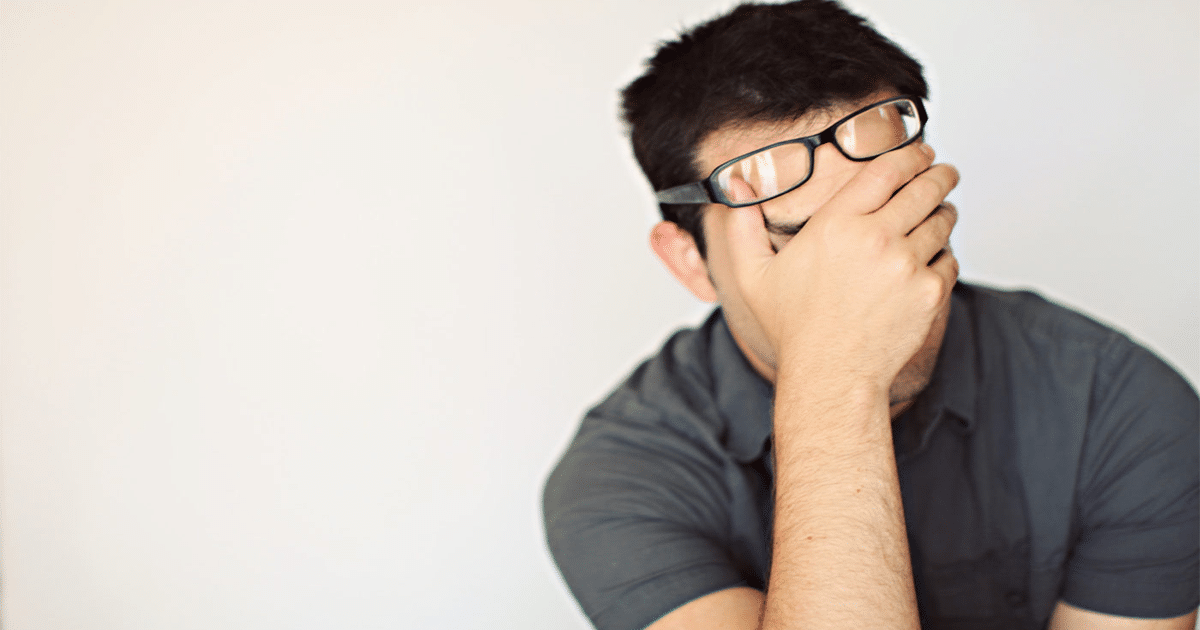 5 Mistakes When Sourcing Consultants You Should Avoid
People make many mistakes when sourcing consultants, and it can be challenging to avoid them all. The following are five of the most common mistakes that people make when sourcing consultants.
5 Mistakes When Sourcing Consultants You Should Avoid
Overlooking the scoping.
One of the most cliche mistakes is not defining your expectations properly before discussing them with a consultant. It is easy to get caught up in excitement about their potential abilities that you forget why you needed them in the first place. As a result, you might end up with a project that doesn't answer your needs. It is a waste of your time and your money.
READ ALSO
This guide will walk you through 4 steps that will help assess any consulting proposals you may receive in the future!
Most consulting firms I know love nothing more than a well-defined RFP, with minimal back and forth with the client for fine-tuning. Why? Because working on the requirements is an investment for the consultants and is rarely compensated.
Furthermore, a poor scope of work may lead to difficulties throughout the project: misinterpretation of expectations, bill disputes, and staff shortages.
Being transparent to the point of naivete
You must provide enough information about your firm, its sector, and the assignment's context so that the consultancy can better comprehend the issue and propose tailored solutions.
You may also offer pointers on the budget and the anticipated timeline, so they don't waste time considering numerous options. With a similar high-level scope of work, one consultancy may produce tens of diverse approaches.
But at the same time, you should keep the consulting firms on their toes until actually signing a contract with them. You don't want to hand them all your bargaining chips at the beginning.
Don't be afraid of negotiating but understand the link between scope, staffing, and price.
Working with the wrong consultants
Don't use personal referrals as the only source for finding out who you want to hire. Indeed, you need to avoid using consultants who do not have experience or expertise related to your industry or company.
For example, if you're launching a strategy project, don't hire someone who has never let strategy projects before. On the other hand, if your firm is in the Agrobusiness industry and you need a consultant that understands the specificities of your sector, don't ask consultants specialized in other sectors, even if they are strategy experts.
Be sure to hire consultants with the right skills for the right assignment! Hiring people outside their area of expertise can lead to disastrous results and might also be expensive if they need support from junior staff or other specialists.
Try not to look for miracle consultants either. There is very little chance you will find the consulting firm that fits your laundry list of expectations. Prioritize your needs. And if it is not enough, meet several consultancies to assess which approach would better solve your challenge.
Don't forget about internal resources before purchasing external assistance. Though hiring consultants may often seem like the only solution at first glance, it's important not to lose sight that there are many ways within your company itself to address specific issues.
Taking their claims at face value.
There is no right or wrong way to check references. Remember that sometimes consultants themselves are not entirely forthcoming when asked about their work history, so again, do not limit yourself to asking them directly!
Don't be afraid to ask tough questions. However, if the consulting firm is unwilling to provide references and other information, you should probably take your business elsewhere!
Build a list of questions that are relevant to your project and your company. For instance, are your priorities… Their expertise? Their ability to build relationships? Their project management skills? Their ability to deliver impact?
Here is a simple method to ensure the references are suitable:
Real: Check the background of the referrals

Relevant: Make sure the projects mentioned have similarities with yours

Recent: The project was finished recently (usually less than 3 years)

Related: The reference concerns the project manager or the team 
Checking references will allow you to minimize the risks and maximize the impact of your project.
Disengaging once the consultant is hired.
When sourcing consultants, the bulk of the work begins after the ink has dried on the contract. You must keep track of and manage the project's outcomes, as well as the project itself. Consulting projects seldom go according to plan.
Managing a consulting project is first and foremost managing a project. To maximize the chances of success of your project, you will need to address three elements: Stakeholders, Project, and Change.
Please don't wait until the project is over to analyze its performance. And communicate your findings with the consultants. The reasons for poor performance can be numerous and simultaneous. For example, it might stem from the Consulting Firm (capabilities, skills, experience, etc.) or your teams (low priority, staffing, …).
In any case, it's usually best to sit down with the Consulting Firm and figure out the problem together.
You must also manage the relationship with external consultants when you work with them. To begin, you'll need to keep track of changes in the project that impact scope, staffing, timing, and unanticipated events.
If the modifications are significant, you should consider amending the contract. In any case, keep track of the changes in the Steering Committees' minutes.
Consider the consulting firm as your partner with a shared objective: the completion of your project. Be adamant about the quality of the results. Give them feedback on their performance, as well as visibility on payments.
In the end, sourcing a consultant is an investment in your company. And as with any investment, it pays to do some research before you decide and manage the project. The good news? That's what we're here for! We've talked about 5 mistakes executives often make when they source consultants and how not to repeat them. If you're still struggling, though, don't hesitate to reach out – our team of experts is ready and waiting to partner with you on sourcing the right consulting partners to solve your challenges. So which mistake have you made while sourcing consultants?
Choose the best next step for you
Buy the Book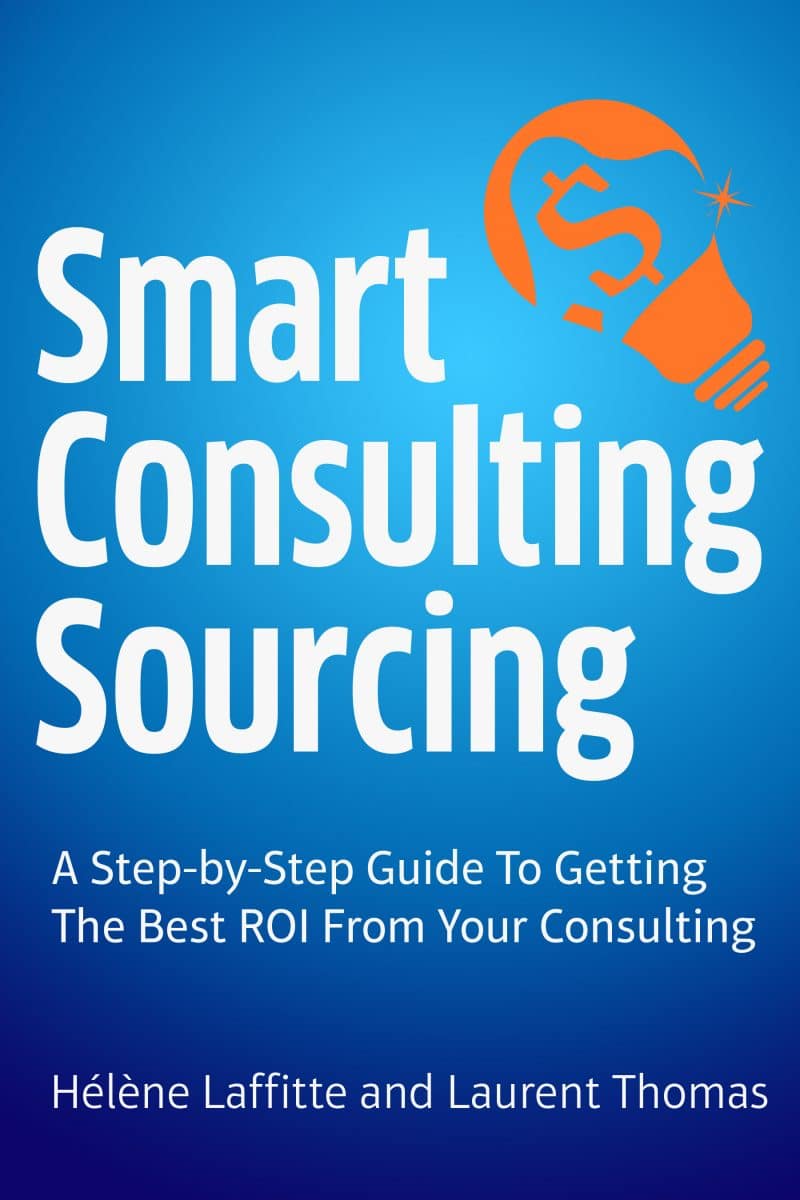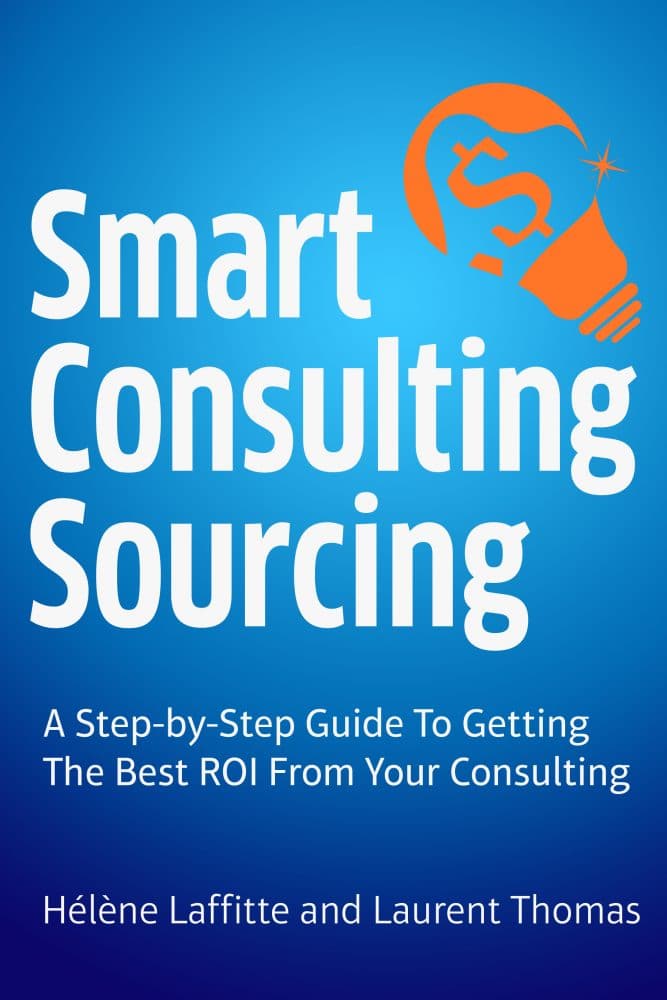 Talk to us
Ready to get started on your next project? Need a fresh point of view? We will be happy to help. Please give us a call today, at no obligation to you